Welcome to Larry Cremeens Fine Art Gallery

Introduction
Larry's inspiration for painting comes from the Western landscape and the people, animals, and spirits who are a part of that landscape.  He has a keen interest in the history of Native Americans and of their present culture.
He studied painting and drawing as an undergraduate at the School of the Art Institute of Chicago.  After moving to the southwest, he studied under several famous contemporary Artists: David Leffel, John Coleman, William Scott Jennings, Mehl Lawson, John and Terri Moyers, George Hallmark, Martin Grelle, Bruce Greene and Curt Walters.
Exhibitions
Larry has been juried into exhibits at the La Quinta Festival of Arts in CA, and the Phippen Museum Fine Art Shows in Prescott, AZ. The Sonoran Festival of Fine Art in Carefree, The Carefree Fine Art & Wine Festival, The Thunderbird Artists Shows, Arizona Fine Art Expo, all held in North Scottsdale, AZ. The Annual Bosque Art Classic in Clifton, TX. As well as The Breckenridge Art Festival in Colorado. Larry has had several one-man gallery shows.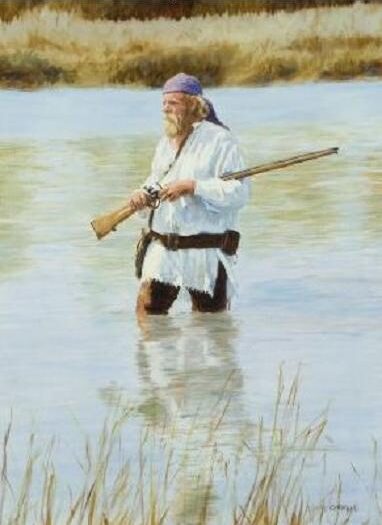 The Explorer, 24 x 18
Larry Cremeens, Artist